Waste hierarchy- let's take it from the top!
The waste hierarchy is a framework to encourage improved decision making around the purchase and disposal of the products we buy to reduce waste 'at the source'.
As our lifestyles become increasingly fast paced and demanding, the emergence of products designed to reduce time and pressure in everyday tasks have become a large contributing factor to our society's growing waste problem.  As waste in landfill continues to accumulate at increasing rates, it is now more important than ever to consider new ways to reduce the amount of waste we create.
The waste hierarchy provides solutions for dealing with waste with the most preferable options at the top, and the least preferable options at the bottom.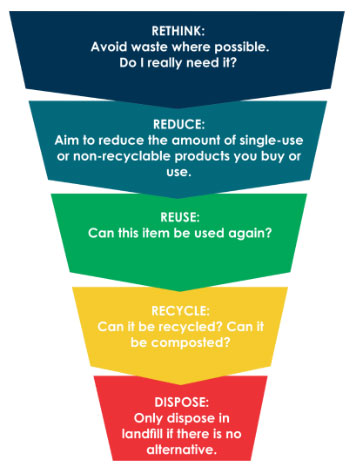 'Rethink' and avoid waste
Rethinking our behaviours and avoiding the creation of waste in the first place is the first step in the waste hierarchy.  Start thinking about what you really need and refuse the things you don't.  When considering buying new items, first ask yourself:
Do I really need it?
Can I borrow it instead (i.e. if I won't use it often e.g. a specific power tool)?
Can I use something I already own instead?
Can I buy something slightly more expensive that will last longer?
Can I buy this with less packaging?
Is the packaging reusable?
Is the packaging recyclable?
Research shows that 1 in 5 bags of groceries ends up in landfill, costing Australian families thousands of dollars each year.  Food waste can be minimised by planning your weekly meals around ingredients in the kitchen and pantry that need to be used up, writing a shopping list and sticking to it.  NEVER go shopping on an empty stomach!  Take the 6-week online Food Smart Program Challenge to find out more; you'll be amazed at the money and landfill space you will save!
Waste reduction and reuse
Reducing waste helps to preserve the environment and can often save you money in the long run.  Savings can be achieved by 'buying in bulk' i.e. the purchase of larger quantities in a single box or bag, rather than single-serve packets, which are always much more expensive per 100g/100ml. You can then measure out smaller servings and take these in reusable containers to school or work, thus minimising your daily waste generation.
Reducing your use of single-use items and choosing items that are packaged in materials that are accepted in the yellow-lid recycling bin (soft plastics are not accepted) can also have a big impact on your personal waste generation.  Some common single-use items include bottled water, takeaway coffee cups, plastic shopping and produce bags and disposable straws and cutlery. Try also taking reusable containers to your local deli or butcher to reduce packaging.
Some examples of lower waste, and thus more preferable, purchasing decisions are shown below.
| | |
| --- | --- |
| Higher Waste Option | Lower Waste Option |
| | |
| | |
| | |
| | |
| | |
| | |
| | |
Recycling beyond the kerbside: further waste diversion opportunities
Ensuring that all recyclables are placed in the household yellow-lid recycling bin where they belong is an easy way to help preserve our local environment now and in the future.  This ensures that they are turned into new, useful items instead of taking up limited landfill space.  Household recyclables include plastic bottles and containers from the kitchen bath and laundry, glass bottles and jars, steel and aluminium cans, including empty aerosols, clean alfoil and foil trays and paper and cardboard.
However, this is just the beginning!  Many of the items we use on a daily basis can still be recycled, provided they are dropped off to the correct specialist recycling program.
Soft plastics
Soft plastics constitutes a huge amount of packaging and includes items such as plastic packet and wrappers, plastic shopping bags, bread/ pasta/ rice/ frozen produce bags, bubble wrap and zip-lock bags.  These items can be collected and dropped off to the REDcycle bins at the front of major retailers such as Coles, Woolworths and ALDI.  They will then be collected and turned into functional items such as playground equipment, farm posts, bollards, and pathways.  For more information, check out REDcycle.  You can also drop off soft plastics to the Singleton Library soft plastics collection bins.
Batteries 
Australia's first national government-backed battery recycling scheme has made the recycling of ALL types of batteries easier than ever.  In addition to household batteries (A, AA, AAA, C, D 9V), this also includes power tool batteries, camera batteries, and e-bike batteries (and they can be single-use or rechargeable!).
Collect and drop off your batteries at places like ALDI (which have had their own battery recycling scheme since 2013), Woolworths and Bunnings.  For more info, check out B-cycle.
For each battery recycled, more than 95% of its materials can be remade into things we use every day, like paint, car tyres, metal tools, computer parts, brand new batteries etc., rather than adding to landfill pollution.  Recycling batteries also avoids putting waste workers at risk, as even small household batteries cause truck and facility fires.
Electrical waste (E-waste)
E-waste is the term given to discarded electronic devices and commonly includes things such as power chords, TVs, gaming consoles, mobile phones and computers and all associated accessories, such as remotes, chargers, keyboards, mice etc. These can be dropped off to the Community Recycling Centre, to Council's Customer Service foyer located in the Queen Street building or to the Singleton Library. The library also accepts discarded power tools for a specialist recycling program.
Household hazardous wastes
A wide range of problem wastescan be dropped off for free at Council's Community Recycling Centre located at the Waste Management Facility. Click here for the full list of what is accepted, street address and trading hours.
Burragan Recycle Shop
The Burragan Recycling Shop located at the Singleton Waste Management Facility complements the Community Recycle Centre operations by offering repurposed household items for sale, supporting better recycling and landfill minimisation outcomes.  The facility is open from 10am-2pm, daily.
Items accepted include building materials from renovations such as doors, flooring and pavers, nuts, bolts, nails and household items such as furniture, knick knacks, clothing and bicycles.
Call 02 6578 7329 or click here for more information
Pre-loved, good condition household items
Donating pre-household items that you no longer want to local charities helps to support more people in need and saves limited local landfill space.  This includes items such as:
Furniture
Electronics
Crockery and glassware
Books and toys
Clothing and accessories
Bedding and towels
Gym equipment
Always check the items you wish to donate with the charity of interest to ensure they can be accepted before taking them along.
Alternatively, selling or giving things away via popular online platforms such as Facebook Marketplace or Gumtree is a great way to recover money for yourself or the family.